Caption Prompts That Reflect YOUR Business & Brand Delivered Monthly
It's the depth of your relationship that matters.
How much stress would that relieve, knowing you're just a post away from more bookings?
That's what happens when you have an engaged following on Instagram. Right now you don't keep up with it because you don't see the ROI, but that's just because you're following a different rulebook.
Instaposts creates ENGAGEMENT. Not hollow likes or followers who'll never buy from you. 
"The key to social media is rooted in the social science of human behavior"
-Melissa Pruitt, Instaposts Founder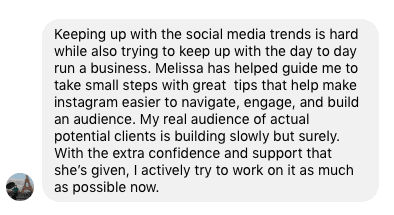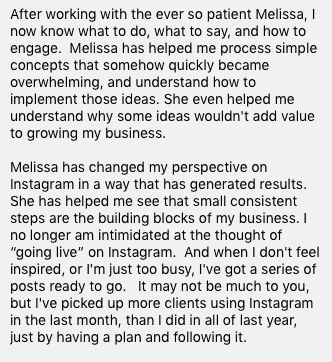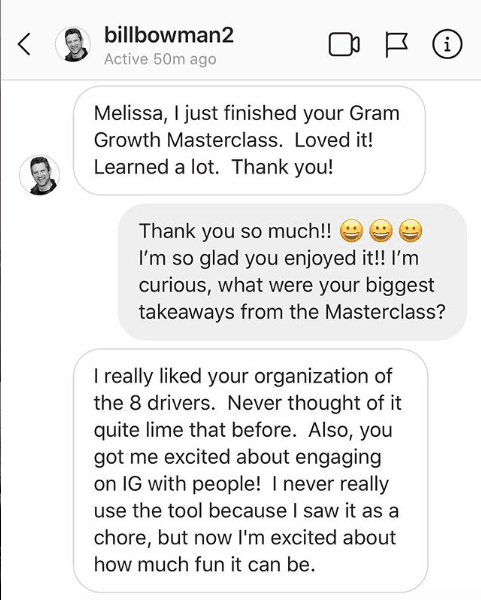 Create Engaging Instagram Content in 3 Simple Steps...
Read, Gather, & Post with Instaposts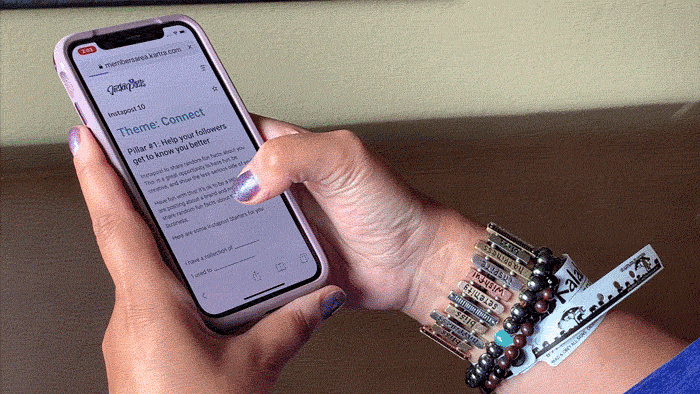 Imagine no more "blank page" caption paralysis and missed opportunities to connect with your followers. Reading one Instapost a day will start the creative process of your Instagram content that is in your own words and reflects YOU, your business, and your message. 
Caption Prompts so you know what to say on a daily basis on Instagram...in your own words! When it comes to social, one size fits none! No cut and paste here, this is all about creating engaging ORIGINAL conversations on your posts, stories, and IGTV!
A Conversation Catalyst to start a two way dialogue with your followers
Stop Chasing Instagram Followers & Start Engaging Instead!
This isn't about building a massive following or vanity metrics. This is about growing your tribe of people who love who you are and what you stand for. Instaposts teaches you what you need to gather for each post or story so your content speaks to and connects with your followers!
Image Inspiration Ideas that match the captions you post and reflect you and your brand
Full Access to the Client Accelerator Course to teach your Instagram marketing strategies and how to navigate the app
Bonus Custom Meme Backgrounds and Stickers to get started with creating your own unique Instagram content
With Instaposts you get 80% of the work done so you can customize and post.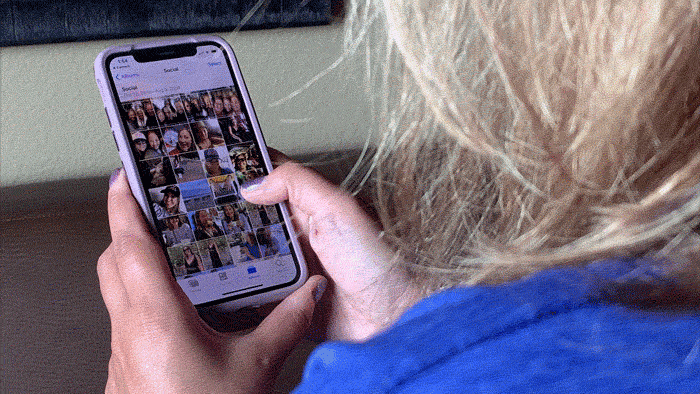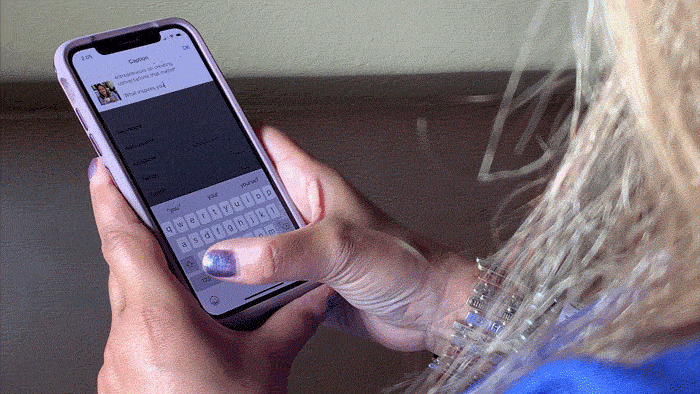 Know exactly how to grow your business on Instagram with daily Instaposts.
Instaposts allows you to:
Sound like 'you'

Have something to post everyday on Instagram

Show up consistently for your followers
And when you show up, your business grows. Engaged conversations=cash!
It doesn't stop with your posts and stories..Instaposts guides you to next steps to continue to grow your business!
Insta-Engagement Tracker to track your engagement stats so you won't waste time posting dud content again
Monthly Training to discuss Instagram updates and discuss what's working
The more engagement you have, the more Instagram rewards you with FREE exposure - so you get to reach more people...Instaposts pays for itself!
You're just 5 minutes away from a post which attracts your dream clients
Signing just ONE client from Instagram can easily pay for Instaposts for YEARS
Create original Instagram content that catches the attention of your followers - and that they actually comment back on..
Feel inspired every day to share what is going on in your world with your peeps..
Have an IG gameplan, so you know what type of content you should post
Build a tribe of Instagram followers that are hanging on to every word you say
Know what to post on Instagram that is going to be relatable and relevant to your followers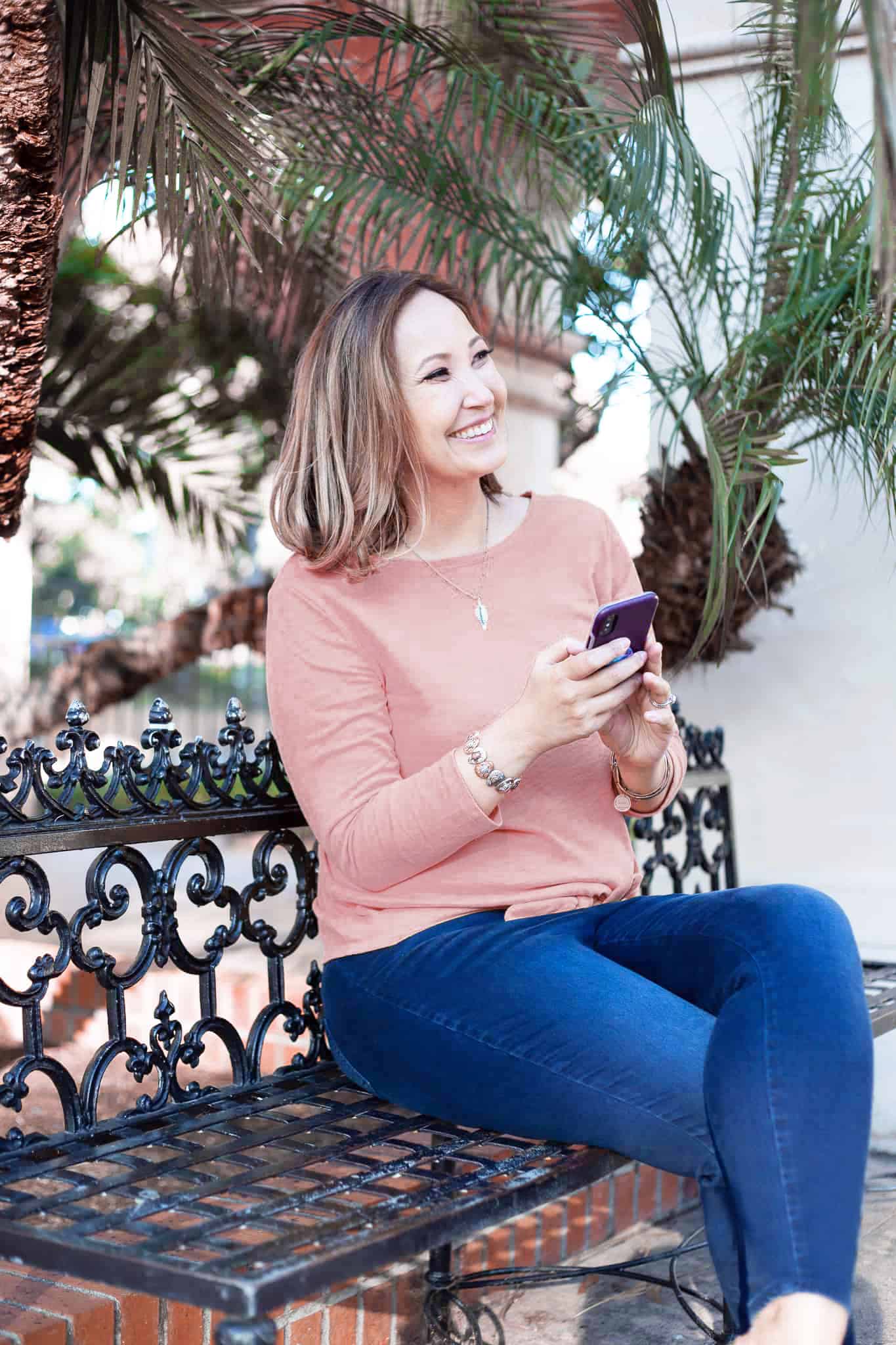 Meet the Founder of Instaposts: Melissa Pruitt
I've been creating social media content for over a decade and I'm stoked to help you create Instagram content that helps you connect with your followers at an even deeper level!
How do I know I can help you? Because I've been doing this work my entire life!
I've had a ton of different experiences that have led me down this path..therapist, life coach and national trainer, author, speaker (you may have seen me on the TEDx stage!), and content creator for our own multi six figure business with my husband Paul.
I've worked with a lot of different types of people to understand how people's minds work and how to talk to people so they get you..that's the nerdy side of me!
My first book focused on helping people build a daily mindset practice to set their intentions for the kind of day they wanted to create. I've seen great results with people who have put this practice into action, when they know what to do and take consistent action.
So Instaposts takes that same concept to help you get crystal clear on your daily message and consistent with your delivery, so you can connect at an even deeper level with your followers and clients!
My role in our businesses has always been content creation, and I built Paul's social media platforms to tens of thousands of followers through engaging content, before shifting gears to start building my own. I believe in creating real connections with real people. No vanity metrics. I'm a huge believer that when you give value to your followers that you will receive a huge give back in return.
I want to create conversations that convert to clients
Try it out, you can cancel at any time